Industrial Site Selection
In March 2023, LG Energy Solution announced a historic investment of $5.5 billion to develop a battery manufacturing complex in Queen Creek. The Town of Queen Creek is emerging, nationally and internationally, as a center for advanced manufacturing and a leader in the EV and renewable energy industries, offering utility-served greenfield development sites, a talented workforce, and a high quality of life with rich recreational amenities.
In addition to 3,500 acres of State Land available for development, Queen Creek has sites ranging from 10 acres to 240 acres for sale within a short distance to State Route 24, Phoenix-Mesa Gateway Airport, and ASU Polytechnic Campus.
To see a full list of Queen Creek's Industrial Portfolio and related infrastructure, please explore the interactive industrial development map below.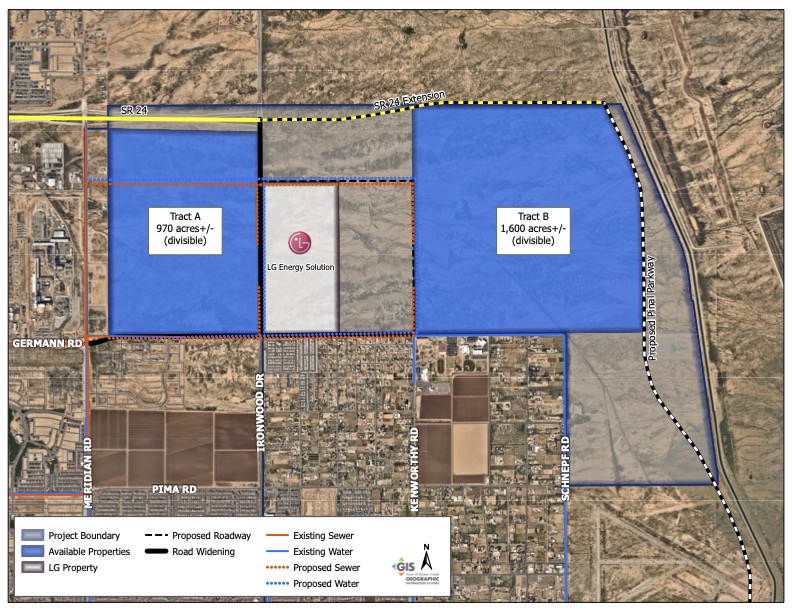 "LG Energy Solution to Invest $5.5 billion to Build Battery Manufacturing Complex in Arizona, Step Up EV and ESS Battery Production in North America"
The largest single investment ever for stand-alone battery manufacturing facility in North America
The new manufacturing complex to produce cylindrical batteries for EVs (27GWh) and LFP pouch-type batteries for ESS (16GWh), with total annual production capacity reaching 43GWh
Production to start in 2025 and 2026 respectively, addressing customers' needs for locally manufactured batteries in response to IRA tax credits and surge in market demands
The manufacturing complex to ensure cohesive partnerships and further promote collective drive to expedite clean energy transition with major EV and ESS players in North America
March 24, 2023
To read full press release, click here.
3,500+ Acres for Development
The Town of Queen Creek Office of Economic Development is pleased to present our new Site Selection Booklet. Our new booklet has all the need to know information on why Queen Creek is the perfect community for your business.
Every industrial project receives a dedicated project manager to guide your business, rapidly and efficiently, through the permitting process, from the initial inquiry until the doors are open.
Please contact one of our Industrial Project Managers with any questions or to book a consultation.
Marissa Garnett, Economic Development Project Manager